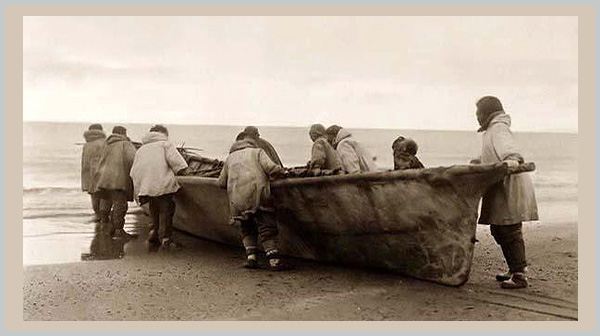 Spotlight on Eskimo Subsistence Whaling
Eskimo, or Inuit people have whaled in the Arctic for thousands of years. In 1977, a crisis over native whaling ensued when the International Whaling Commission revoked the subsistence exemption used by Inuit people to hunt bowhead whales (Baleana mysticetus).
Scientific evidence showed the bowhead population to be critically endangered, with only 1,500 individuals. Also of concern were the increases in the number of whales Eskimos struck with harpoons but did not bring successfully to shore. Many of the escaped whales died at sea while the hunting crews attempted to land another whale.
Inuit people, whose culture is intimately connected to the bowhead whale and the Arctic environment, disagreed with the scientific assessment of bowhead population numbers. Based on environmental knowledge learned through many generations of Arctic whaling, the Inuit believed the number of bowheads was much greater than scientists claimed.
They vehemently protested the IWC's action and vowed to continue whaling, even if it meant going to jail.
The United States government, which had been a leading force in international whale conservation efforts, was caught between the needs of its native people and the need to protect whales. In fact, some conservationists have argued that the ban on bowhead whaling was engineered by commercial whalers as a means of undermining the conservation leadership of the United States.
As a result of negotiations within the IWC, whaling nations were permitted to catch many more kinds of whales in the commercial hunt, in return for acceding to a small subsistence hunt of bowheads.
Local communities created the Alaskan Eskimo Whaling Commission (AEWC) to regulate Inuit whaling. The AEWC successfully reduced the number of whales that were injured but not landed, one of the IWC's original concerns. Several years after the 1977 crisis, improved scientific counting methods showed the bowhead population to be significantly greater than the scientists originally had estimated.
There were 7,000 whales, almost 5 times more than the original estimate of 1,500 that had initiated the controversy. Inuit people felt that the validity of their tradition-based environmental knowledge had been vindicated. The bowhead whale is still endangered and cannot be hunted commercially, but the Inuit subsistence catch is not considered to be a threat to its survival.
Explore:
Click here for Endangered Species Classroom Activities
Click here for Endangered Species Classroom Glossary