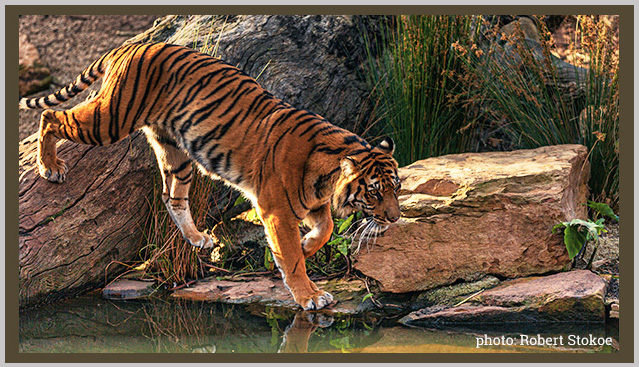 Bengal Tiger
Name: Bengal Tiger (Panthera tigris ssp. tigris)
Conservation Status: Endangered
Population Estimate: 2900 (in India)
Range: Bangladesh / Bhutan / India / Nepal
Threats: Habitat Loss / Poaching / Illegal Wildlife Trade / Human Conflict / Climate Change
The Bengal tiger, or Royal Bengal tiger is India's national animal. It roams a wide range of habitats including high altitudes, tropical and subtropical rainforests, mangroves, and grasslands. They are primarily found in parts of India, Nepal, Bhutan and Bangladesh. Most Bengal tigers are found in India.
Species Description:
Male tigers measure 8 to 10 ft. (2 to 3m) in length and can weigh from 440-650 lbs. (200-300kg). Female tigers measure from around 8 to almost 9 ft. (2.5 to 2.6 m) and weigh in around 220 to 400 lbs. (100 to 181 kg). The Bengal tiger's average lifespan in the wild is from 8-10 years.
All white tigers are a variation in color of the Bengal tigers and some tigers have been reported that are white with or without black stripes.
Bengal tigers hunt medium and large-sized animals, such as wild boar, badgers, water buffaloes, deer goats and have been known to prey on small elephants and rhino calves. They are known for their power and in one incident a Bengal tiger was reported dragging away a dead gaur which 13 men were not able to move. As a gaur can weigh 1 ton or more, it would mean the tiger had to be able to drag something 5 times its own weight.
These tigers hunt mostly at night, killing their prey by severing the spinal cord, or by inflicting a suffocation bite (usually for larger prey).
Threats:
As with other species of tigers, habitat loss, habitat fragmentation and poaching are key threats to the survival of the Bengal tiger. Tigers are often killed for their skin and for their body parts which are used to make traditional Asian medicines. There is also the issue of human tiger conflict when tigers get to close to human settlements. And recent studies have suggested that climate change could eliminate suitable tiger habitats for the Bengal tiger
Conservation Efforts:
Early in the 19th century there were around 40,000 Bengal Tigers in India. Seventy years later the tiger's population dwindled around 1800 animals. In an effort to revive the tiger population in India, the Indian government launched Project Tiger in April 1973. The project started in the Jim Corbett National Park which is in Uttarakhand, India. The park was designed to provide a safe haven for Bengal tigers.
In 2021 there are 51 tiger reserves in India and the Bengal tiger population has grown to over 2900.
Project Tiger is funded by the Union Government of India and administrated under the Ministry of Environment, Forests and Climate Change. The National Tiger Conservation Authority (NTCA) is the supervising agency.
Related Topics:
Indochinese Tiger
Malayan Tiger
Siberian (Amur) Tiger
South China Tiger
Sumatran Tiger
Explore:
Click here for Endangered Species Classroom Activities
Click here for Endangered Species Classroom Glossary
External Link(s):
The National Tiger Conservation Authority (NTCA)
Global Tiger Recovery Program 2010 – 2022 (PDF)